The usual schedule for the Summit was an early rising, get cleaned up and dressed, then head out for the Starbucks about 4 or 5 blocks down for the early-morning coffee fix and wi-fi access. Today was the assault on Capitol Hill for all the legislative meetings, and the key purpose for the Summit.
Remember, the Summit is all about the lobbying, and learning to do it effectively.
A nice thing about DC is that it's a fairly easy town to get around in without a car. Having tried it one time several years ago, a car is often a liability to the traveler because there really aren't many convenient places to park it once you have to get out of it. So for most of the Summit it was easier to get around by shank's mare, or by using the Metro. I'm happy to say I spent the 4 days of the Summit shuttling around via the Metro for a grand total of $9.40, plus 10 bucks each way when I ran out of Metro line getting from and back to Dulles airport via the Wahington Flyer bus line.
Having gotten my early-morning caffeine fix, I hoofed it back down to the Metro Center station and took the Blue Line down to Capitol South station. I popped up less than a block away from my destination at the Rayburn House Office building, where we were all gathering in "Room 339" for a pre-meeting and pep rally before heading out to the individual meetings with legislators.
The key thing to learn about navigating around Capitol Hill is deciphering the room numbers. Each of the legislative bodies has a set of office buildings to either side of the Capitol building – the Senate on the west side, near Union Station, and the House on the east side. The House is probably the hardest to figure out, since offices have 4 digits – the first digit being the building number, the second being the floor in that building, and the last two indicate the particular suite. What you have once you get in there is long expanses of identical-looking hallways, with each suite marked by a state flag for the particular legislator dwelling within, and a little bronze plaque denoting name and home state. The Senate buildings are pretty much the same, but they're prefixed with the building name, making it a little bit – but not all that much – easier.
I met up with Coreen and Gordon at Room 339, and we had coffee and bagels while the rest of the Summit attendees gathered. Matt Mihalevich of Fayetteville and his wife showed up soon after, and we made quiet plans for getting to the various meetings. Coreen, Gordon, and I were pretty much the core team, who would start off by meeting with Congressman Mike Ross' staff at 11:00, followed by Congressman Snyder at 11:30, and Congressman Berry at 12:00 noon. Matt would join us at 1:00 p.m. to meet with Congressman Boozman, and then we would all go together over to the Dirksen Senate building to meet with Senator Pryor at 2:00 p.m. and Senator Lincoln's staff at 2:15.
The League kicked off the morning meeting with a brief introduction and some final marching orders by director Andy Clarke, and then Congressman Earl Blumenauer came back to the microphone. He told us about a budget meeting he was in last night with President Obama. During that meeting, Blumenauer had a few minutes to present directly to Obama.
As he began outlining his ideas on the importance of alternative transportation modes, he mentioned funding challenges. At that point, according to Blumenauer, Obama piped up with, "You mean, there's not enough money for bikes?!". "The big guy's on message," Blumenauer said with a grin.
Blumenauer had also filed a "clean-up" bill for the Bicycle Commuter Act passed as part of the ARRA recovery/stimulus bill early this year. When the Bike Commuter Benefit Act passed back in October of last year, it was a shallow victory for advocates who had pushed for its passage for seven long years. Not only did it pass as a ploy to build support for the controversial financial bailout bill, the "benefit" it provides is small ($20 per month compared to $230 for parking a car and $120 a month for using public transit), and the implementation has been the source of massive confusion to employers across the country. Worse yet, the Bike Commuter Benefit Act included language that required bike-riding employees to choose between the bike benefit or the transit benefit.
Blumenauer has filed H.R. 863, the "Multi-modal Commuter Credit Act," that he hopes will clean up the existing law. The new legislation would allow employees to receive a combination of the bike and transit benefits up to the currently monetary cap of the transit benefit. The legislation will also allow employers to administer the benefit exactly the way existing fringe benefits are administered, thereby clearing up much of the confusion over implementation of the current bike commuter benefit.
Using this new provision, people who ride their bikes to a train or bus stop and use both their bikes and transit to get to work would be able to receive both benefits in a given month.
Dan Beard, the administrative officer managing the House office buildings, was introduced, and explained that a bike sharing program he had announced at the Summit last year had been fully implemented now. He has placed 30 bicycles in three locations around each of the House buildings for the free use of House members and employees to use to get around the Hill, run errands, go to lunch, or for whatever purpose. So far this year, 175 employees have taken advantage of this service and the bikes are in near-daily use. So far, this is only available in the House; the Senate has not yet launched a companion program for their members and staff.
Our first meeting wasn't until 11:00, so we went down to the Rayburn cafeteria for a second breakfast and hung out there until it was time to get to business. The first meeting, with Mr. Ross' legislative assistant, Lee Stewart, went pretty well and served as a good warm-up. We combined efforts to explain what we were asking for, and made pretty much the same pitch to the various offices. As the day went on, we met with James Savage, legislative director for Rep. Vic Snyder; Chris Wallace, legislative director for Rep. Marion Berry, Andrew Grobmyer, legislative director for Senator Mark Pryor, and Patrick Davon, legislative correspondent for Senator Blanche Lincoln. We met briefly with Representative Snyder in the hallway outside his office as he was on his way to another appointment.
Meeting wit Representative Boozman was a memorable experience, as we were set to meet with Mr. Boozman himself. However he was on the House floor at the time for a vote, so he had one of his aides escort us out of the Longworth building through the tunnels and mini-railroad that links the office buildings with the Capitol itself, and to one of the cloak rooms behind the House chamber where real people usually aren't allowed to go. We had a very productive meeting, and as we ran a little bit long, Mr. Boozman's aide took us out through the tunnel on the other side and directly to Senator Pryor's office for our next meeting. I'm normally not very fond of Republicans any more, but I was deeply impressed with the attention Mr. Boozman paid us, and the way we were welcomed by his staff.
Some notes for if I ever decide to try this again:
· Bring some business cards for BACA, or with my LAB stuff on them. What I usually have are my regular cards which say "ADEQ" and are wholly inappropriate for a wanna-be lobbyist in training. I'd been intending to have some made up for awhile with my LCI information on there, but it was a little late when I reached in my jacket pocket and remembered what I had in there ;-)
· When you're briefing the folks from the ultra-rural 1st District, it doesn't help much to talk about public transit and bus service in Little Rock. Save for maybe Jonesboro, the only buses that run through our district these days are Greyhounds bound for Memphis or St. Louis, or tour buses bound for the casinos in Mississippi. BUT… we do have compact little towns where using a bike to get around inside town will save you on a lot of gas and car insurance money, while making you healthier and more self-reliant.
· Tailor your pitch on how cycling can help your communities to the conditions in your home district… That's who we're really out there to represent in the first place.
· Be prompt, be earnest, and be brief. Especially brief! Meeting times are usually scheduled for 15 minutes total. Get your points down to 3, no more than 5 short and easy bullet points, and let your handouts do the deep background. Leave your contact information so they can get in touch with you in the future if they need more information.
We wrapped up the last meeting, with Patrick, a little after 3 p.m. or so. Matt took off to go find his wife, Coreen, Gordon and I adjourned to the cafeteria in the basement of the Hart building for a late lunch and some deeply appreciated ice cream while we filled out the meeting reports for the League as who who we met with, what we asked for, and any results from those asks. We went touristing a little bit around the west side of Capitol Hill before meeting back up in the Senate Caucus Room in the Russell Senate building for the wrap-up and reception.
The reception went well… for all the folks who were very keyed up early in the morning, the atmosphere was much more relaxed, helped along a little bit by a couple of open bars that had some really good red wine. There was beer available as well, but for an organization that had just given a platinum Bike-Friendly Business award to the New Belgium Brewing Company, I was a little appalled that they didn't have any Fat Tire in sight. All in all, Andy noted that it was another record-breaking Summit, with more attendees (580) and more legislative meetings (350+) than they had ever had before.
After visiting with a few old and a few more new friends, I gave it up and headed back out shortly after dark, taking an easy stroll across the Capitol steps and back over to the Metro Station, enjoying the crisp air and the scenery of the National Mall at night, and thinking back over the past couple of days. Yeah, it was a lot of fun, and a tremendous learning experience… far better than my junior high school civics classes. Would I do it again? Not sure, but it's planted the itch to be a better advocate and activist for biking, both back home and in other places. I've had my fill of hostelling for a little while, though…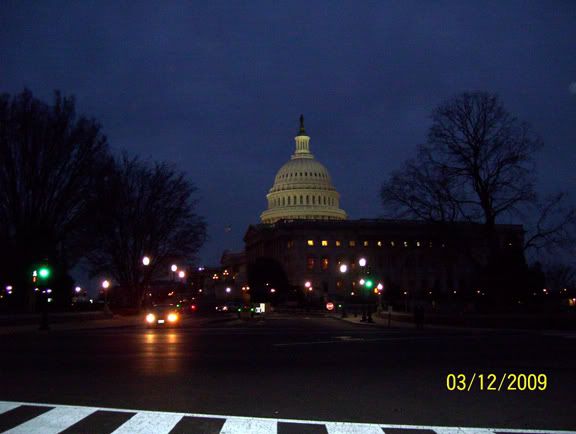 The next morning was another early rising and getting out of the building for a long walk and some coffee. I had to catch a noon flight out of Dulles, though, so I didn't have an opportunity to take part in the Congressional Bike Ride over at the Capitol that morning. As I grabbed my bag and headed back for the Metro around the ride start time, though, it was snowing… not sticking, but definitely giving things a wintry feeling.