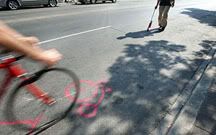 O.U.R.S. in action, from from the Toronto Star

Now a Hoosier of the same stripe (pun intended) is taking up the same tactics for his fellow pedestrians. Read it here:

And with typical situations in the average city like
this
, it's no small wonder that people become frustrated and start blazing their own trails...
We've been thinking about adding some fog lines to the edge of the NLR side of the River Trail in a few needy places. Hmmmm...